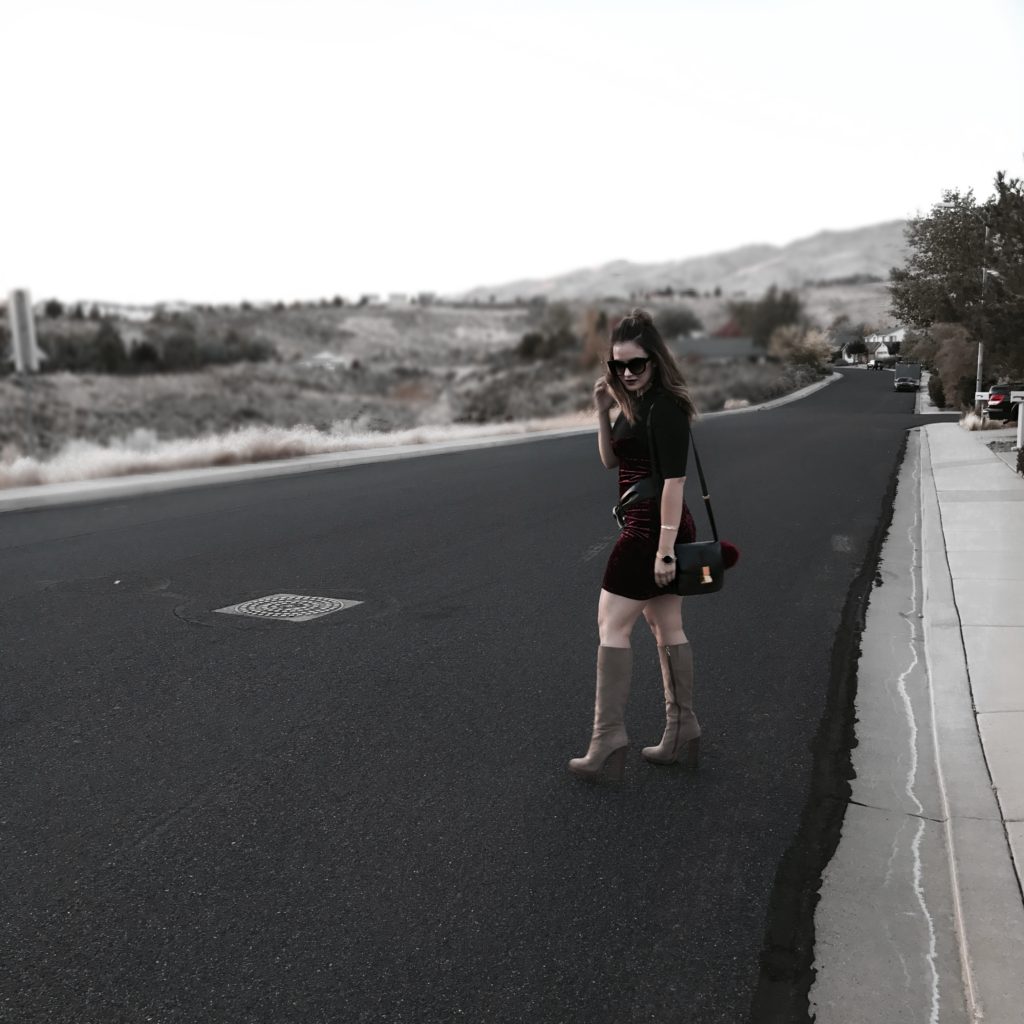 I'm so honored and humbled to be partnering with ShopStyle, CFDA, and Planet Blue in the ShopStyle X CFDA Fashion Targets Breast Cancer initiative in honor of Breast Cancer Awareness Month. While I'm a million times thankful that Breast Cancer hasn't directly affected my family and I, we've had a few scares with my mom—which I'm sure you can imagine was absolutely horrifying. I'm so beyond saddened to hear that a handful of young woman that I went to school with have been struck by this horrible disease. I'm certain that you too personally know someone that has been affected as well. This is a horrible, but true statistic… which is why I jumped at the chance to partner with ShopStyle and CFDA to bring awareness to this initiative. Please ladies, get your yearly mammograms and recognize your body. If something doesn't feel right, I urge you to schedule an appointment and get it checked out right away. Scroll away to learn more about this collaboration!
*This post contains affiliate links.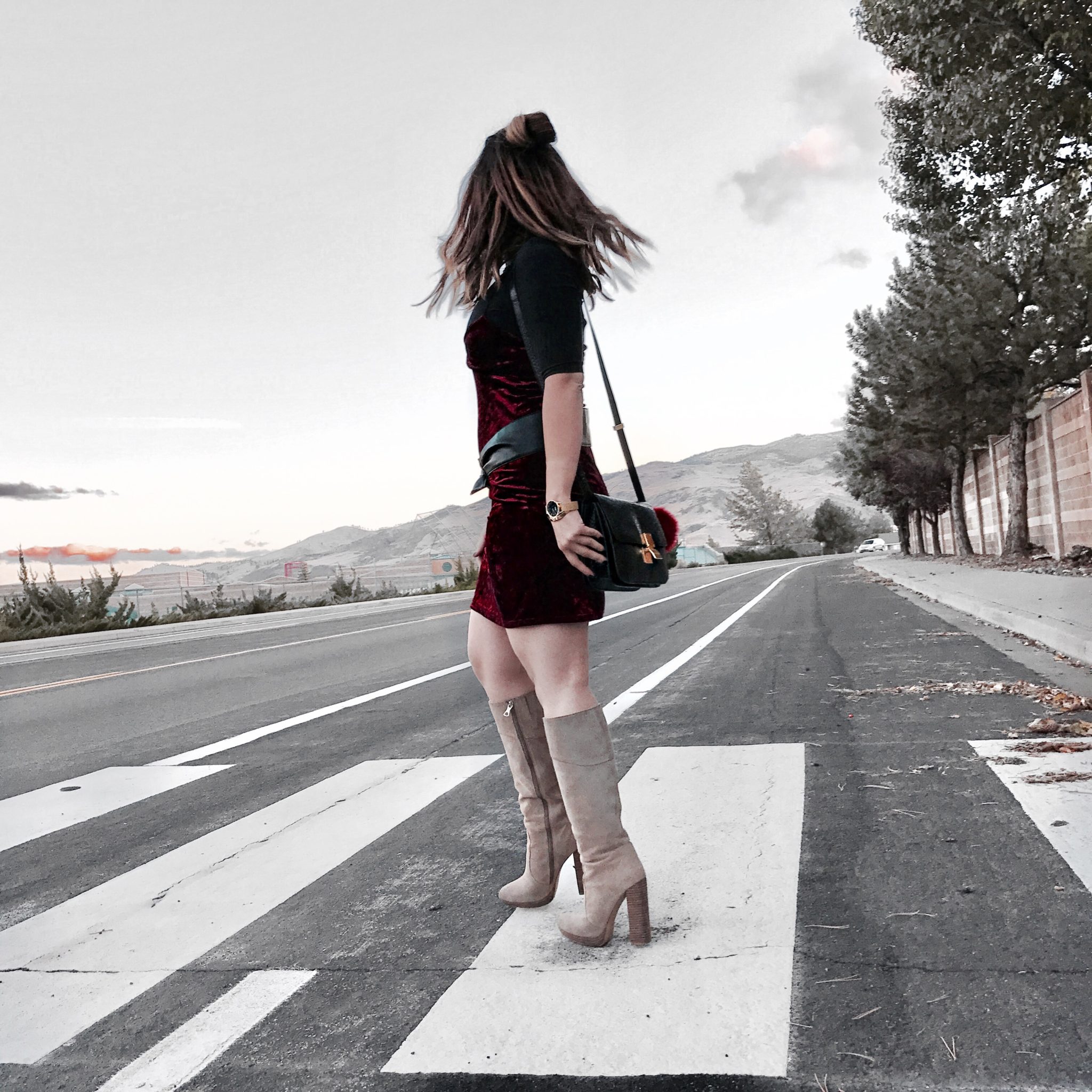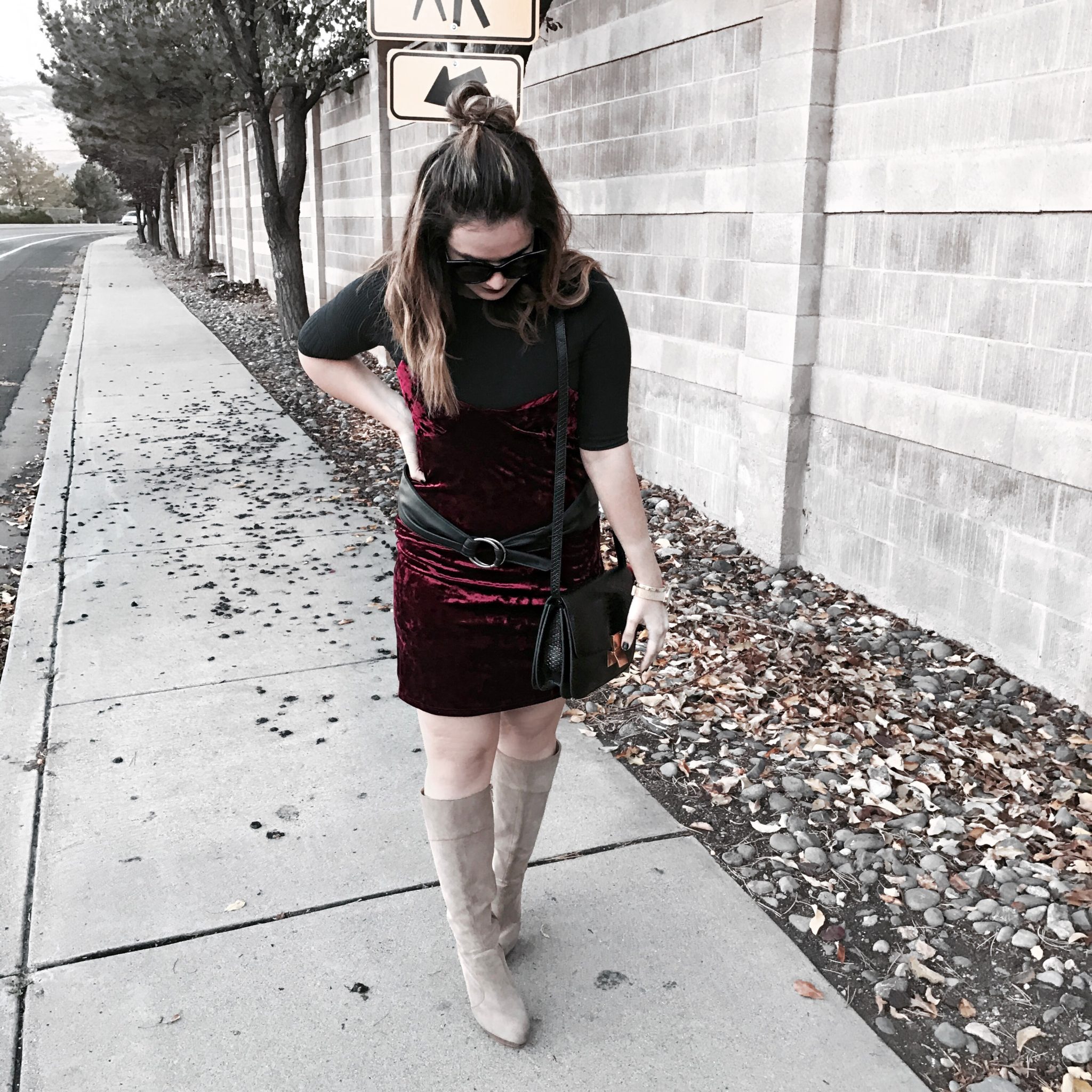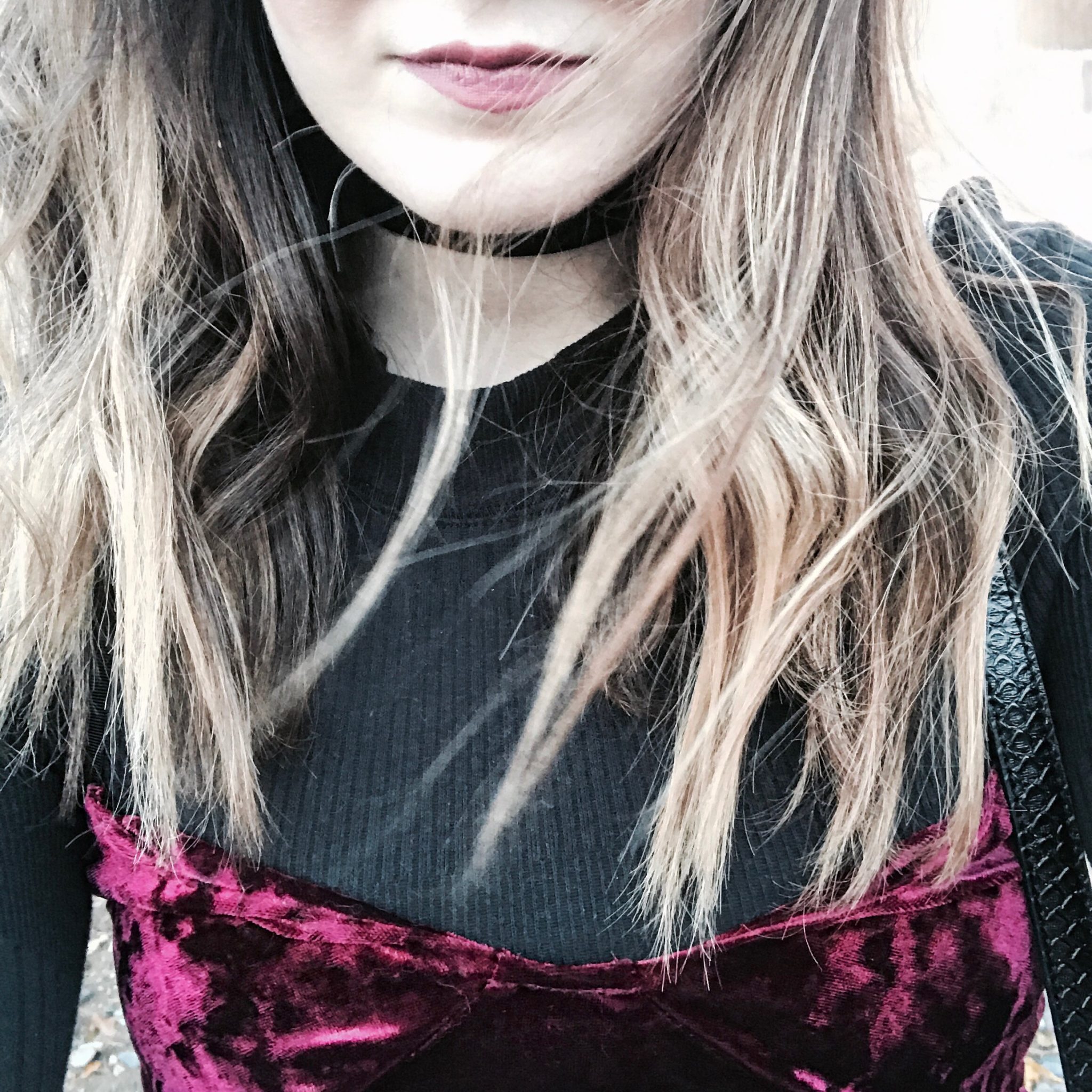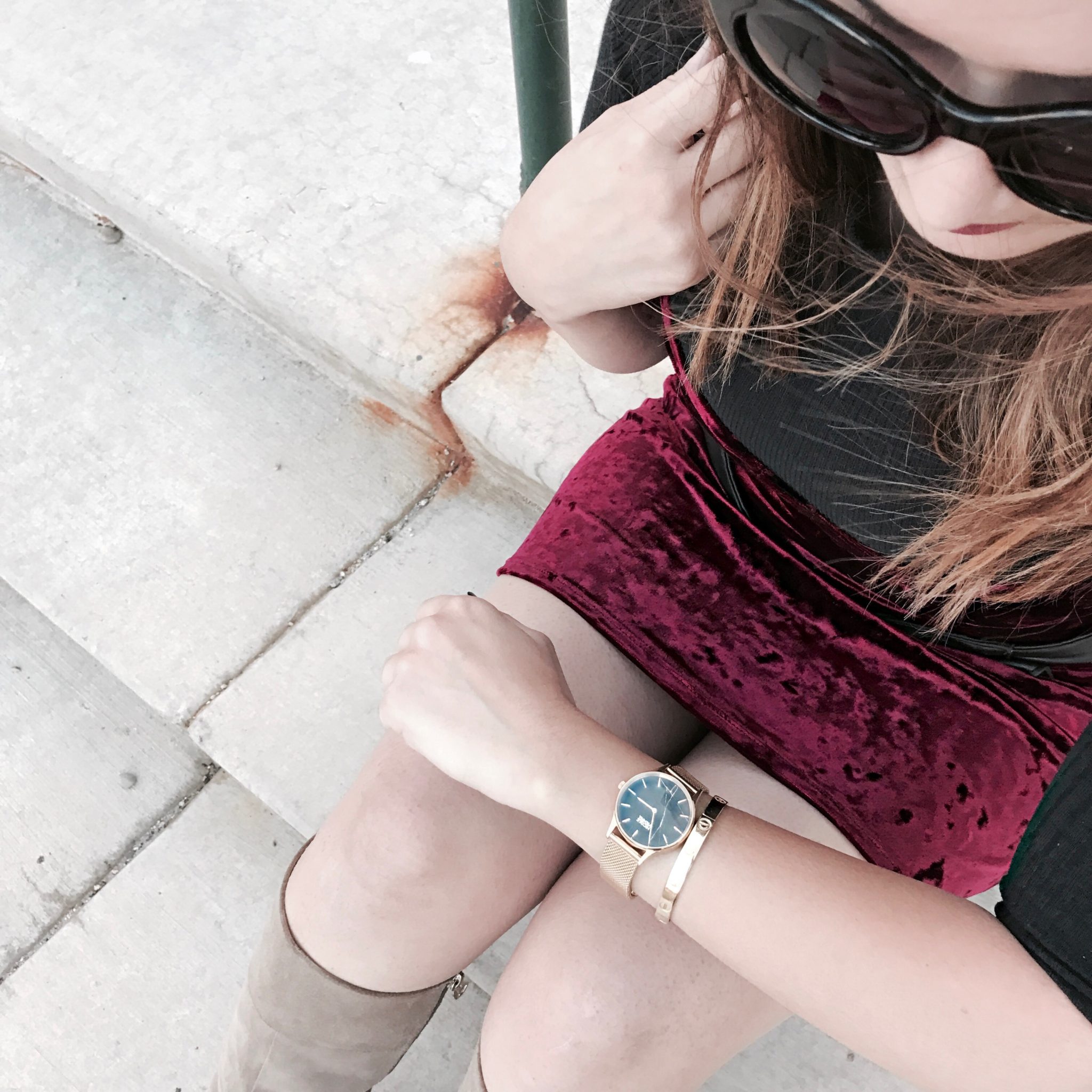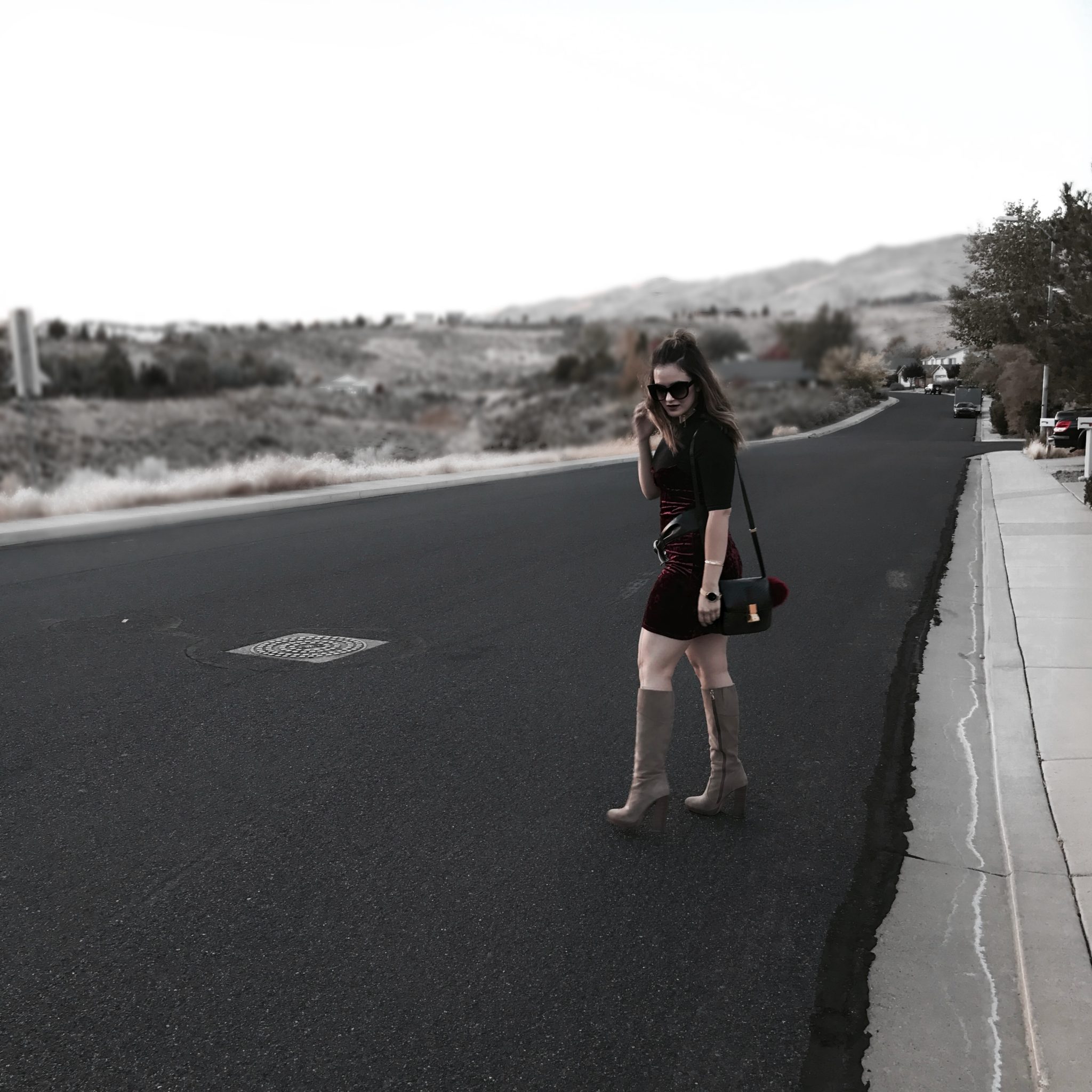 This week, October 17-23, in partnership with Popsugar Inc. and the CFDA Foundation, I am donating ALL of my ShopStyle affiliate link commissions to the CFDA Foundation in support of the CFDA Foundation's Fashion Targets Breast Cancer Initiative.*
I partnered with Planet Blue on this outfit that I KNOW you guys would love for fall. This beautiful burgundy velvet slip dress is ONLY $25 right now. RUN don't walk. They have so many amazing steals right now, so shop shop shop for this amazing cause without feeling an ounce of guilt!
I paired my slip dress with my favorite mock-neck by Maude, a choker from a local shop (Blush & Nectar) and some fun suede boots for an edgy yet classy fall look. I finished off the look with my new Nicole Vienna gold watch, gold Cartier bracelet, Celine-inspired bag with pom, and cat-eye sunnies.
Details: Quay Cat-Eye Sunglasses | Choker | Planet Blue Velvet Dress | Black Mock-Neck Top By Maude | Nicole Vienna Gold Watch | Cartier Bracelet | Celine Bag | Celine Inspired Bag (Under $100 Version) | Burgundy Pom Keychain | Suede Boots (More Options in Widget)
ShopStyle and the Council of Fashion Designers of America Inc. (CFDA) have partnered to help raise public awareness and funds for breast cancer. From Oct. 17 to Oct. 23, all participating bloggers will be donating 10 percent of their sales from ShopStyle originating from our blogs and social accounts to the CFDA's Fashion Targets Breast Cancer® (FTBC) foundation. In addition, ShopStyle will be making a donation based on our initiative; so the more we donate, the more they will as well! More details here.
With the proceeds from FTBC campaigns worldwide, this CFDA foundation provides meaningful help to all women concerned and/or diagnosed with breast cancer by providing access to reliable and quality health care and information and by supporting the distribution of innovative data, education, and outreach to impact the highest number of women possible.
*Promotion runs from October 17th-October 23rd. Sales in the following states are excluded: Arkansas, Alabama, Delaware, Hawaii, Idaho, Illinois, Indiana, Iowa, Louisiana, Massachusetts, Mississippi, Montana, Nebraska, Nevada, New Mexico, North Dakota, Ohio, Oregon, South Carolina, South Dakota, Texas, Vermont, Wyoming and sales outside the U.S. do not qualify towards donations. Conducted in partnership with Popsugar Inc., and CFDA Foundation in support of the CFDA's Fashion Targets Breast Cancer initiative. Popsugar will match participating Shopstyle Collective influencers' donations dollar for dollar in excess of $5,000 up to a maximum of $5,000 for a total maximum Popsugar donation of $10,000. The value of the donation corresponding to any purchase is not tax deductible.