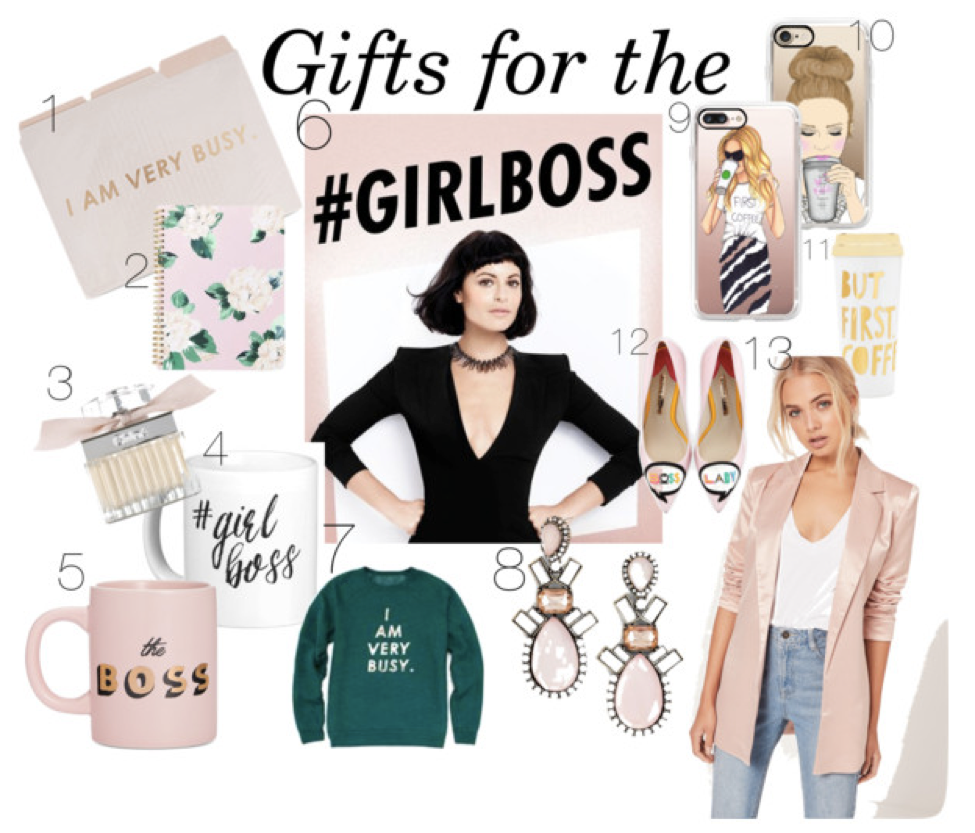 To continue my series of holiday guide guides, I bring you the next category—this one's for my Boss Babes aka the #GirlBoss. This guide is complete with everything from organizational tools to a pink power blazer and everything in between for our girls that are always on the hustle. Just click on the item you'd like to browse by clicking on the photo in the collage. I've also linked the items below with the corresponding numbers.
*This post contains affiliate links.
1. Ban.do I Am Very Busy File Set // 2. Ban.do Floral Planner // 3. Chloe Perfume // 4. #GirlBoss Mug // 5. The Boss Mug // 6. #GirlBoss Book by Sophia Amoruso, Founder of Nasty Gal // 7. I Am Very Busy Sweater // 8. Baublebar Earrings // 9. Casetify iPhone Case // 10. Casetify iPhone Case // 11. Ban.do But First Thermal Mug // 12. Boss Lady Pumps // 13. Missguided Pink Power Blazer
PS- How far along are you with your holiday shopping? Are you done? Frantically in panic mode? Waiting on Black Friday… or *gasp* the week of Christmas? Let me know below—we can get through this together!
And don't forget, shopping's supposed to be fun. What I like to do is wind down, get in some comfy sweats, throw on a sheet mask, grab my favorite tea and shop away online. This way, the stress is minimal (it's actually quite soothing), and you can browse everything on a website without getting FOMS (Fear Of Missing Something) when you're at the store.
Not only is shopping online easier on stress, but it actually saves tons of money. Before I check out, I always always look up online coupons through RetailMeNot and Groupon's coupon page.
Now here's the kicker. I was introduced to a site called Ebates through a vlogger last year, and it's a total game-changer. This site literally pays you to shop online. You read that right, it pays you to shop. It finds online deals through various retailers AND it gives you a certain % cash back through that retailer.
The percentages change, so I try to monitor their site when I have items in my cart. For example, I purchased a comforter through Wayfair last year for about $200 for the guest room. Ebates sent me an email notifying that they're giving 20% cash back and even had a coupon offer on top of that. I jumped to my cart and checked out. I received $40 cash back and a discount from the coupon they sent. I did all my Christmas shopping last year online and through Ebates and I received a check in the mail for over $100, just for shopping online. Boom!
You guys are more than welcome to sign up through my code referral link here, where you'll automatically get $10 just for signing up: https://www.ebates.com/r/LILYAB17?eeid=28187. They can send you a check in the mail, or you can link it to your PayPal account. I'm in no way paid for this, just telling you about them because they're freaking awesome.
Happy Shopping Babes! Xx