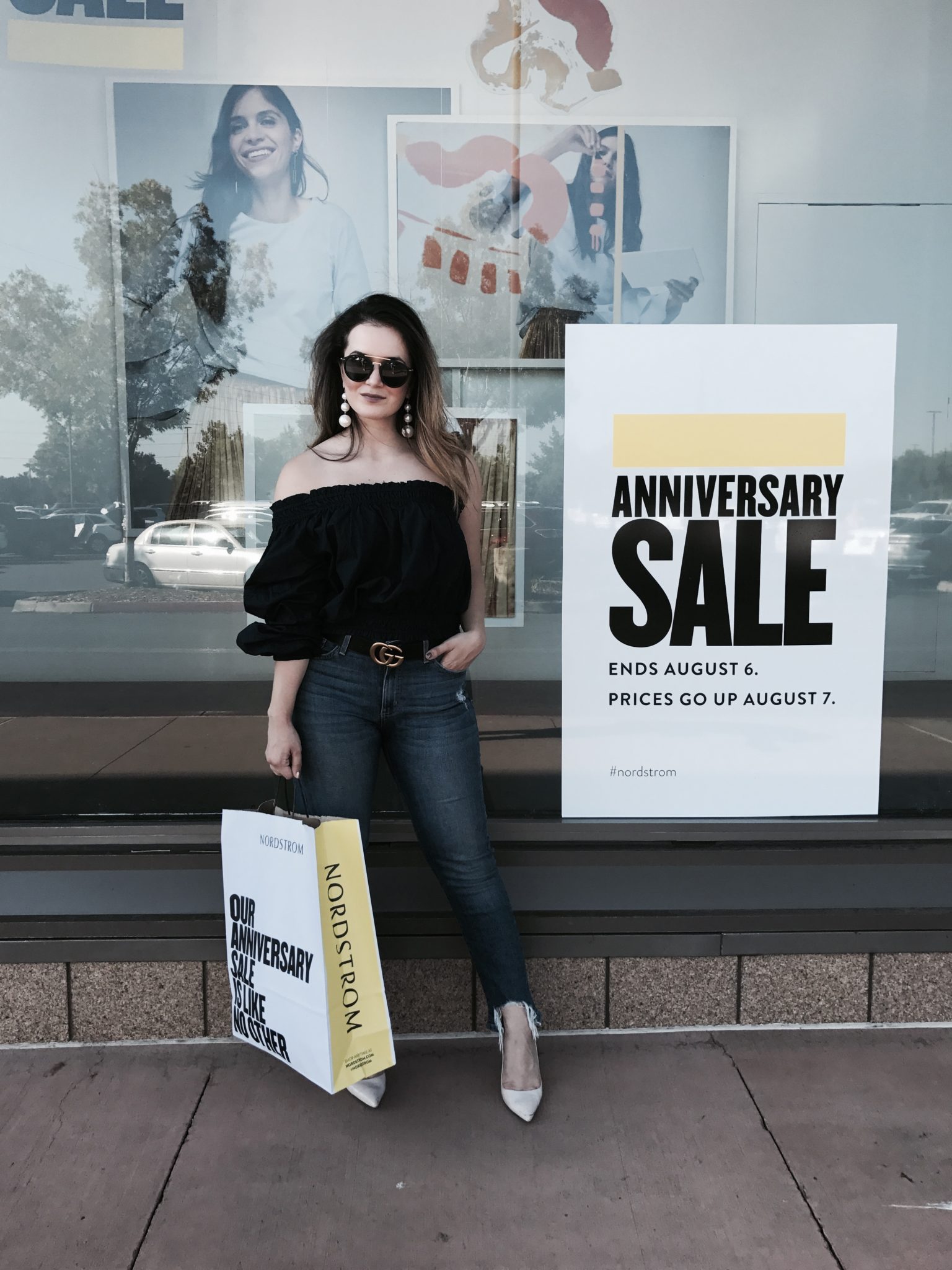 Shop the Look

Hello pretty babes! I hope you all enjoyed a lovely weekend – did anyone else spend it shopping the HUGE Nordstrom Anniversary Sale 2017?! I know I'm not alone. 😉 If you're not done shopping, boy do I have a treat for you. If you scroll all the way down, you can enter to win a $500 Nordstrom Gift Card in honor of the Nordstrom Anniversary Sale 2017! Good luck pretty babes! xx
Now since Reno doesn't have a Nordstrom, I headed out to Roseville to snag the pieces that I missed from the sale online and to check out some of the pieces that I really wanted to see in person. I hope this helps you in your purchasing decisions as well. I know I definitely like to see the items on before I make a final decision. Since I don't have a Nordstrom very close to me, I did end up trying a couple full-priced items as well – but they're still very affordable pieces! Let's go ahead and dive in now, shall we?!
Shop the Looks

Now this first jumper was definitely one of the items that stuck out to me the most – AKA I know I needed it in my life. Since I'm a little height-challenged, jumpers are really hit-or-miss for me. I knew going in that this popular item was probably sold out, so I was super excited to see that there was one left! I love where it cuts off – similar to a culotte-style pant, and the straps are super fun too. The model in the catalog styled it with a blouse underneath, which I totally love too!
The next jumper over is, yes, a jumper. It looks like a dress from the front, but it's actually a romper which I adore. I snagged it and I'm already planning on wearing it for a fun date night – it'll allow plenty of room for activities!
Shop the Looks

Next up, RED! Now you know how much I love red, I think it's a great universal color that looks amazing on everyone. Come to find out, red is totally the hottest color of the year right now. In fact, even Elle called it out here as the color of Fall 2017.
The dress on the left is, again, perfect for a date night, but you can also layer a white long sleeve top underneath when transitioning into Fall. The top on the right is full-priced, but I just adore the color and the ruffles – super on-trend. Again, the jeans are also full-priced but they're AMAZING. They're by Treasure & Bond and I originally picked them out since I've been looking for two-tone jeans for a while now. Come to find out, they're sooo comfortable and super slimming too. #winning
Shop the Looks

Off-the-shoulder tops and bell sleeves aren't going anywhere friends. I already have tops similar to these two that I wear them ALL the time – but I snagged these to show you what they look like on. They're SO easy to style, whether you pair them with jeans, shorts, a skirt – you name it. I like to pair mine with jeans and statement earrings for an effortlessly chic look.
Shop the Looks

Next up, jackets! The one of the left is perfect for a summer-to-fall transition, but it's also a dream for spring. It's perfect with jeans, heels, and a bun – but how lovely would it be with a fun and frilly white dress underneath?!
The jacket on the right is an absolute must-have for fall if you don't have one already. This one in particular is super affordable – it's $45.90 before tax. I love pairing mine with a striped top, jeans, and cheetah print flats. You can also pair it with winter boots, rain boots, booties – the possibilities are truly endless.
Shop the Looks

Next up – my FAVORITE item from the sale… this amazing PJ-inspired top. I've loved this trend for ages. I like to wear mine with high-waisted jeans and a messy bun for a effortless, on-trend look.
Finally, this polka-dot top. It's everyone's favorite. Yes, it's currently sold out – but be sure to keep checking back as you might get lucky. I linked a similar one next to it, it's definitely a splurge if you're unable to locate the one from Nordstrom but it's by Boutique Moschino and it's 100% silk – again, if you want to make the investment.
Shop the Looks

This red-orange denim skirt is EVERYTHING as you can see from my face in the first picture – haha! But seriously, give me ALL the red-orange. This item is full-price, but oh so worth it. As you can see, you can definitely dress it up or down for a completely different look.
The tee on the right is similar to one of sold out Topshop sale pieces (linking in case they restock). It's so beyond comfy, and I love that it's super long and oversized. I can definitely see myself lounging in it at home, and throwing on a pair of jeans if I need to quickly run out for something.
Shop the Looks

Two words. Kelly. Kapowski. That's immediately what came to mind when I saw this top. I'm beyond obsessed with the 90's being back so I just had to snag it. I styled it with the red-orange denim skirt as well as jeans to show how versatile it is. I think it's so fun for a tropical vacation too! I'm normally not one to go for too much color, but this was a major win for me. Again, it's full-price – but super affordable.
The jeans are from a local boutique, but I tracked down some similar favorites here, here, and here.
Shop the Shoes

Finally, I headed over to shoes. This Nordstrom Anniversary Sale 2017 is notorious for their shoes. I have a full blog post dedicated to this section of the sale, but be warned – the shoe department can definitely get dangerous. 😉 I found these GORGEOUS Vince Camuto's, but they're full-price. If you're willing to make the investment, I highly recommend them. His shoes are truly the best, and they hold up very nicely. Not to mention, the color of his leathers are hard to beat.
In my shoe post, I touched on quality over quantity when it comes to shoes – and how to spot the cheapies. Color's definitely one of the things that stick out when it comes to cheapies vs. quality shoes. Now don't get me wrong, I have quite the collection of cheapies as well – so I won't judge, we all do it! I've linked similar Vince Camuto's in the same color that are all on sale too!
If you've made it this far – congratulations, you're amazing! Please don't forget to scroll down to the very bottom for a chance to win a $500 Nordstrom Gift Card in honor of the Nordstrom Anniversary Sale 2017!
PS – If you happen to be in the Roseville/Sacramento area – be sure to see Carson, she's an absolute DOLL. She was lurking in the Topshop department and is just the sweetest, most helpful stylist ever! She helped me look up all my favorite items and constantly checked on me for additional sizes, etc. It turns out that I used to work with her sister (who I also ADORE) back in my retail days – it's funny how that works, isn't it?! 🙂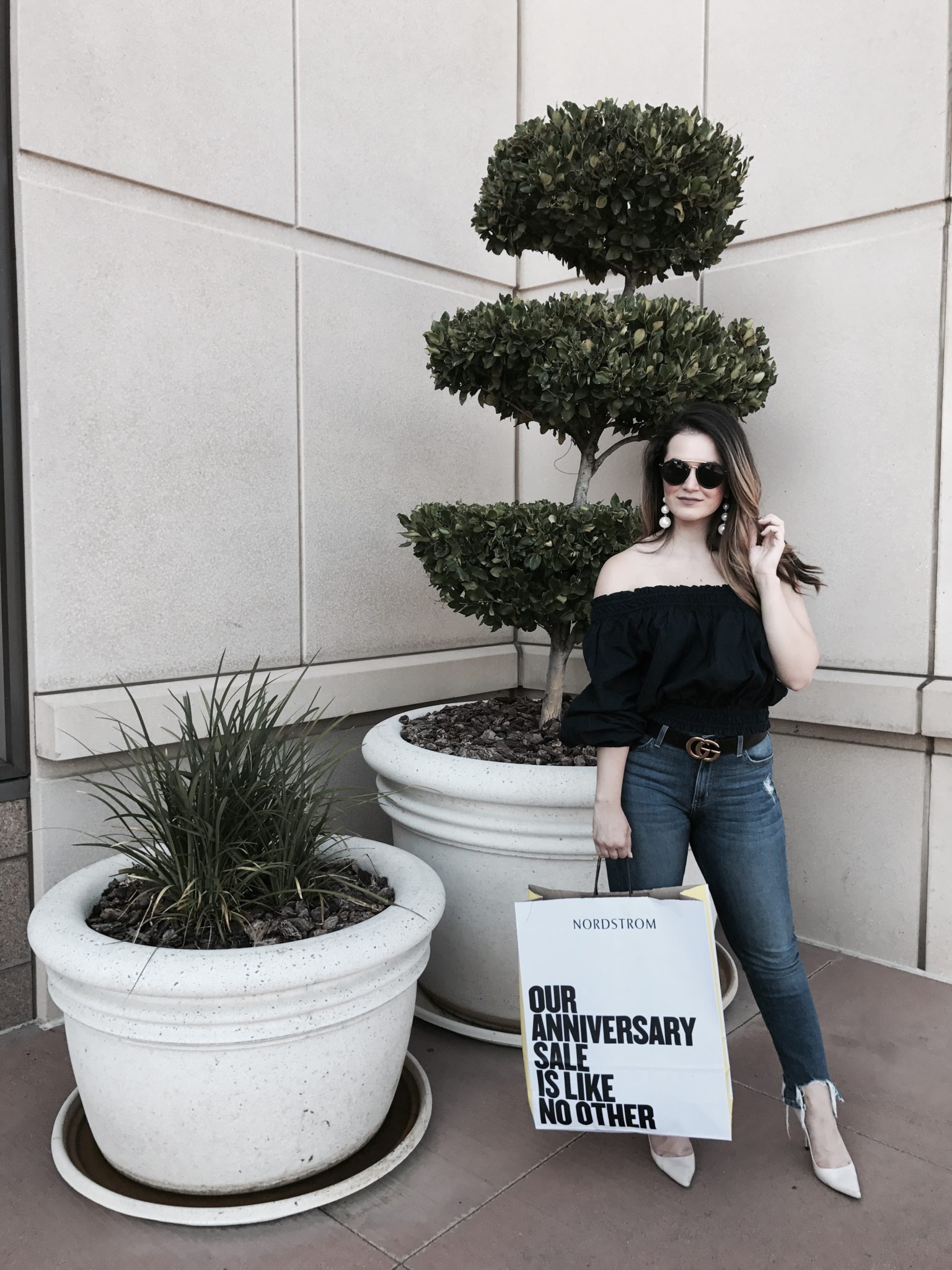 Shop the Look

In celebration of the recent launch of Lili Alessandra a maker of fine linens and soft furnishings on Nordstrom.com. I have partnered with a few of my favorite bloggers to give away a $500 Nordstrom gift card! Simply enter below by completing the rafflecopter. You'll receive one entry per completion. This giveaway is open internationally and ends on 8/7. Winner will be announced here. Good luck!