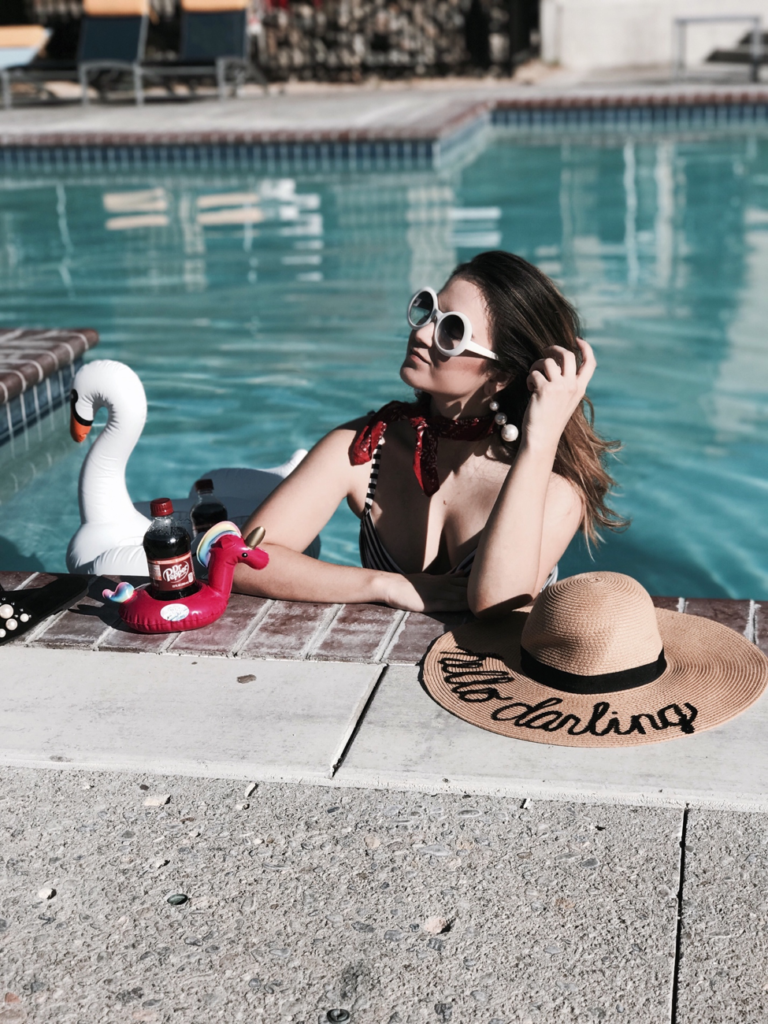 This is a sponsored conversation written by me on behalf of Dr Pepper®. The opinions and text are all mine.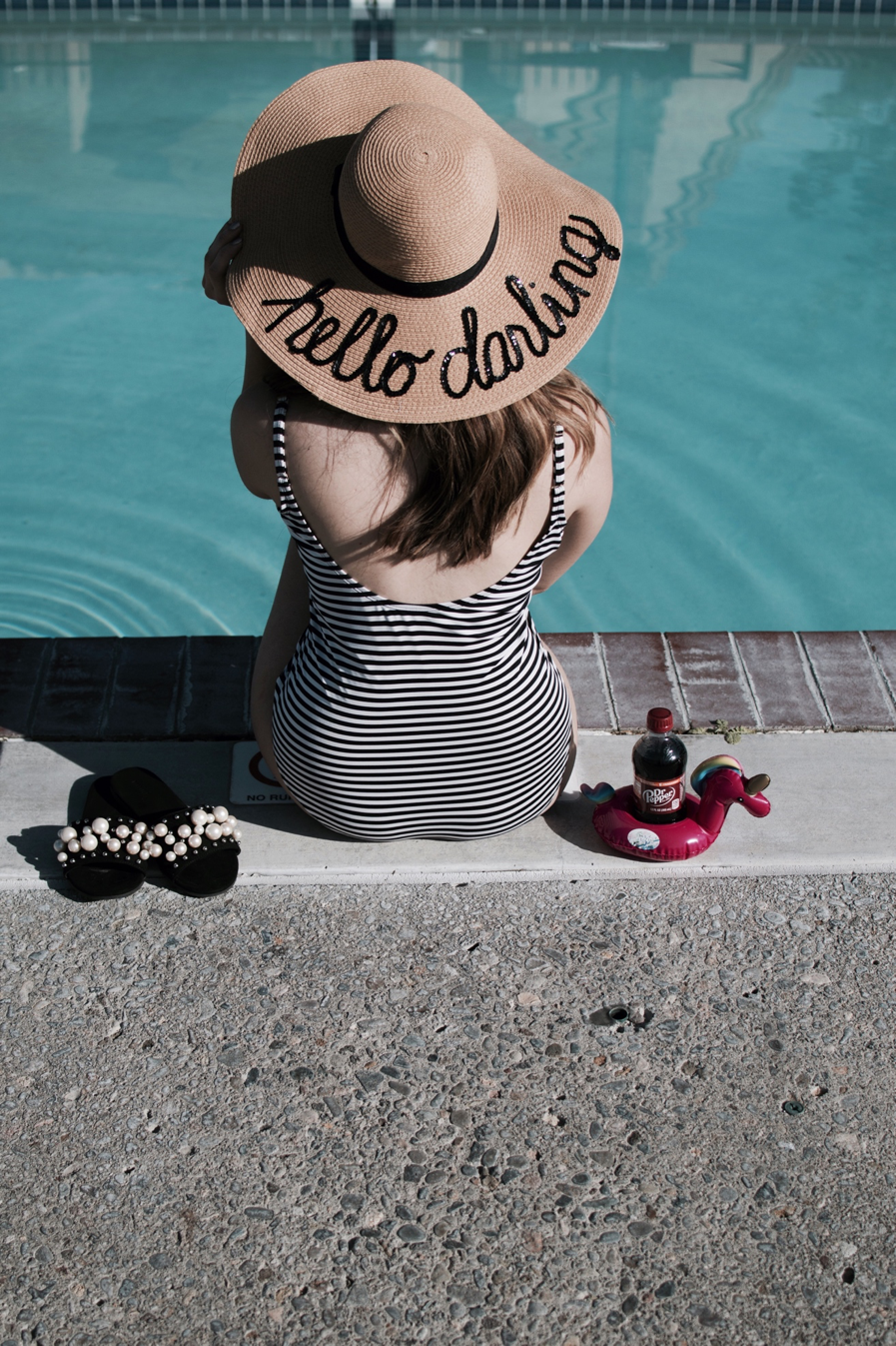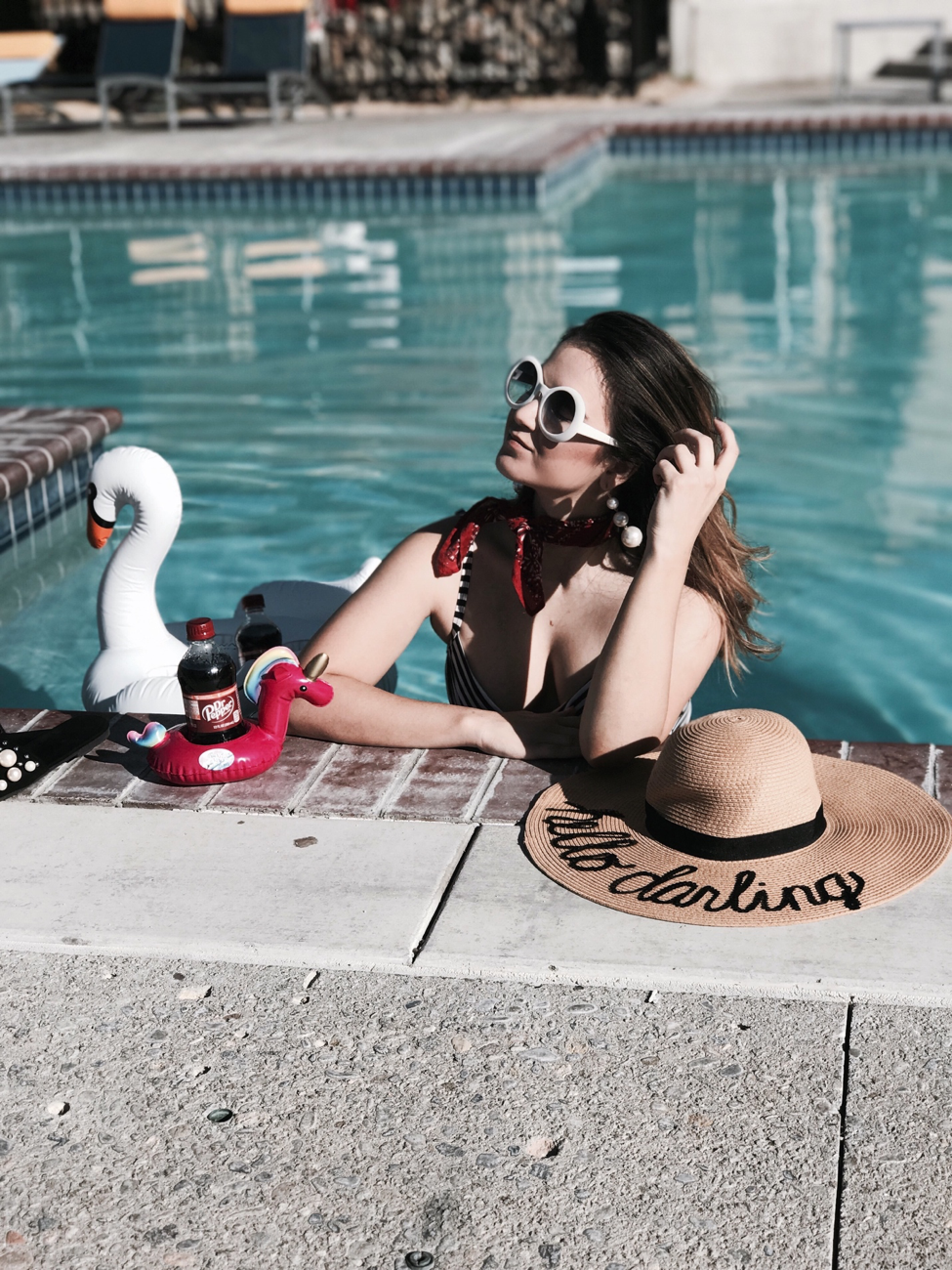 I'm not going to lie. It doesn't "officially" start to feel like summer for me until it's hot enough to start lounging by the pool and working on my tan. The weather's finally starting to warm up here in Reno, so I've been stocking up on my favorite summer essentials to get ready for a summer full of poolside lounging. I thought I'd share some of my favorites with you guys so you can get ready for a summer full of poolside parties with me.
1. Quality sunscreen: It wasn't until just recently that I realized just how important sunblock truly is. Lately, I've become a bit of a sunscreen connoisseur because there's just so many amazing options out there with quality ingredients and that smell amazing.
2. Chic one-piece swimsuit: A few years ago, I would've shuddered over the wearing a one-piece—but now they're EVERYTHING. I'm especially loving stripes and bold sayings.
3. A sassy floppy hat: A sassy sloppy hat is an absolute must, especially if you want to capture a cute "Insta-worthy" poolside snap. 😉
4. Dr Pepper: Yes, I've partnered with Dr Pepper on this post but it's seriously my guilty little pleasure lately. I very rarely drink soda on its own, but when I'm in the mood for a sweet little treat, Dr Pepper is my go-to. I always snag some at the Walmart down the street before heading to the pool with friends because it's good on its own, or perfect for mixed drinks. It seriously never disappoints. Be sure to check out special #PickYourPepper Dr Pepper packaging hitting #Walmart stores on 6/15!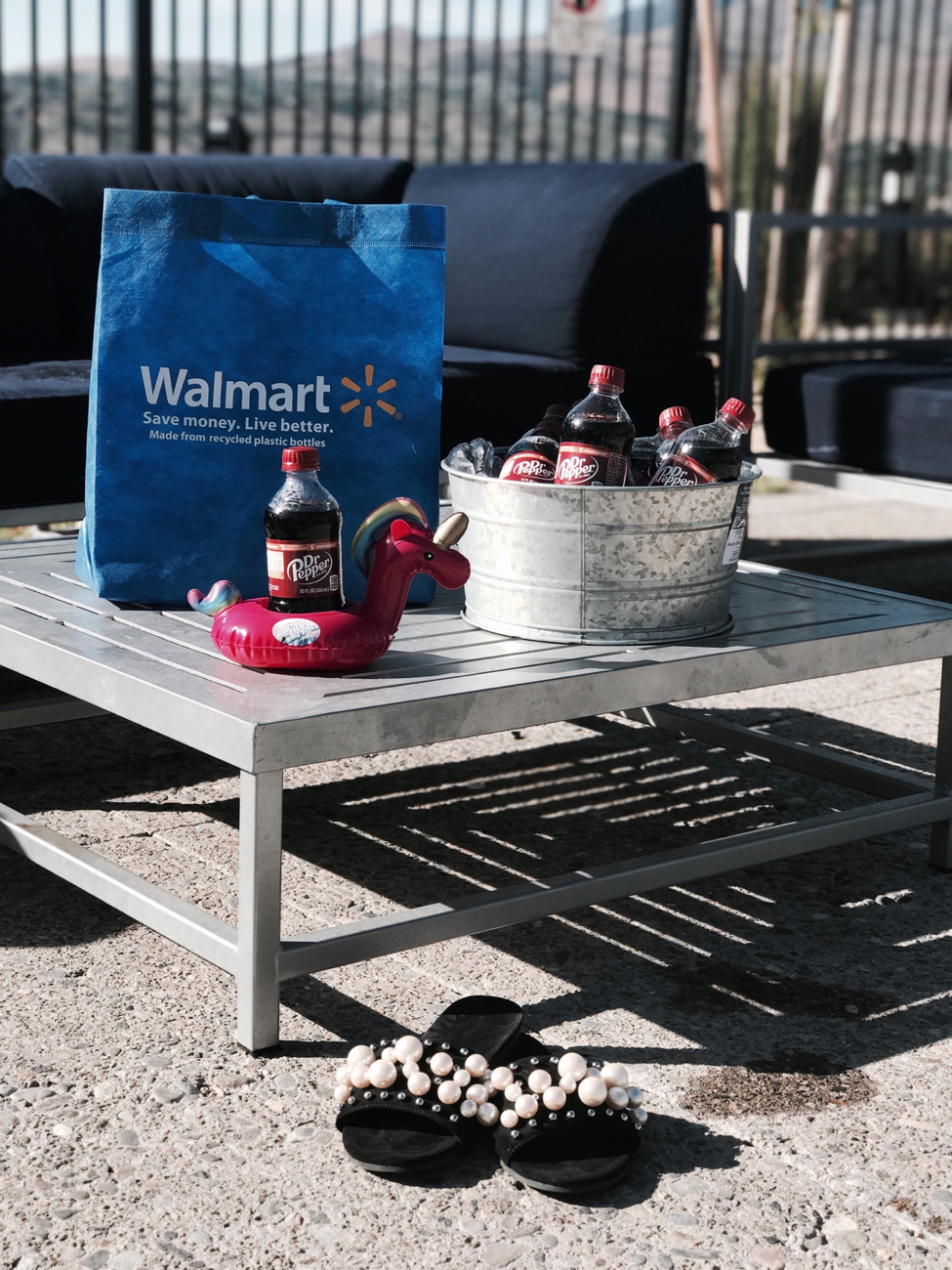 5. Pool floaties: Adorable poolside floaties are here to stay guys. I'm talking unicorns, pineapples, swans. Yes to all of them. Dr Pepper is giving you a chance to redeem their adorable floats with the instructions below. The floatie in this particular post is the unicorn beverage holder which is great to use in the pool!
• When you buy any Dr Pepper 6/15-8/15 this summer at Walmart, you can upload your receipt at http://bit.ly/2pts8Qo to get the prize featured in my blog here and/or other prizes like:
o Spend $5, get a unicorn beverage holder inflatable
o Spend $10, get a Walmart e-Gift Card worth $5
o Spend $20, get a 6 pack can/bottle holder with ice pack
o Spend $40, get a Dr Pepper bottle shaped pool float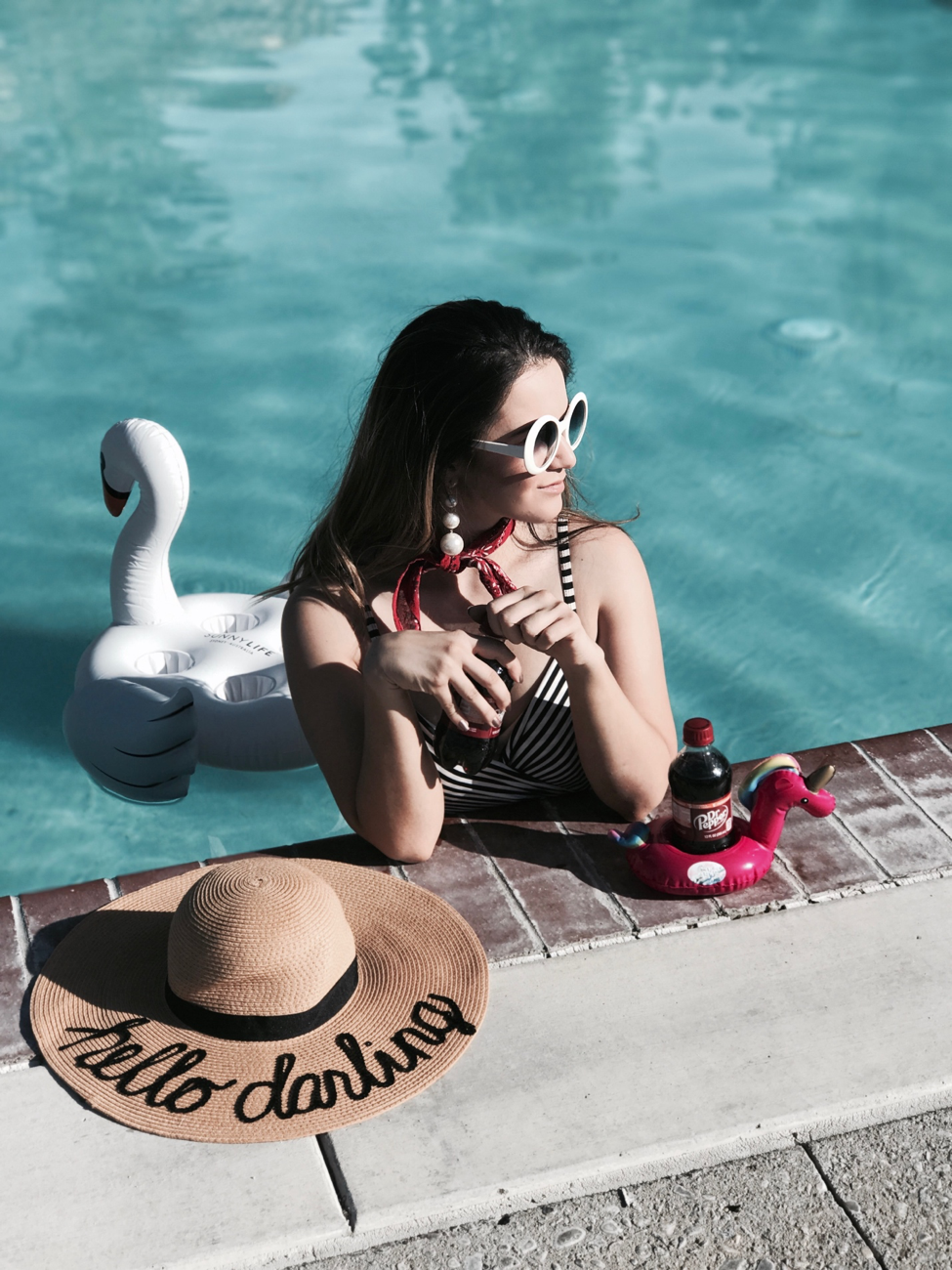 So hopefully you're now well equipped for a summer full of fun poolside parties. Enjoy and thanks for reading!