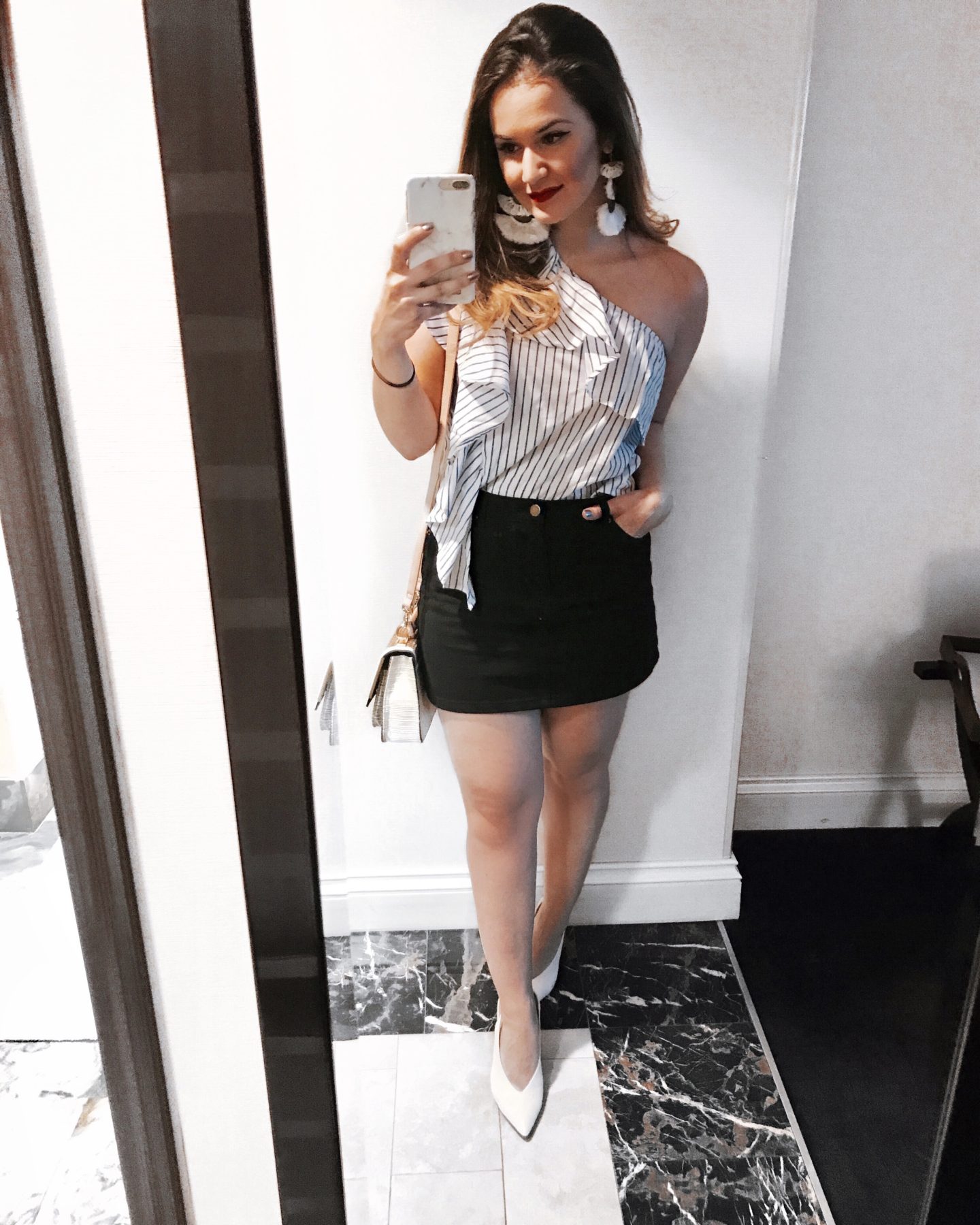 Hello beauties! If you've been following along on my Insta Stories, you know that James and I had a fun little staycation over at the Atlantis Casino Resort Spa for our 6-year anniversary. A ton of you responded to my Stories by asking me where this majestic place is. Well, it's your lucky day because I'll be giving you an overview of our fun little staycation. And a special thank you to the wonderful folks at the Atlantis Casino Resort Spa for having us.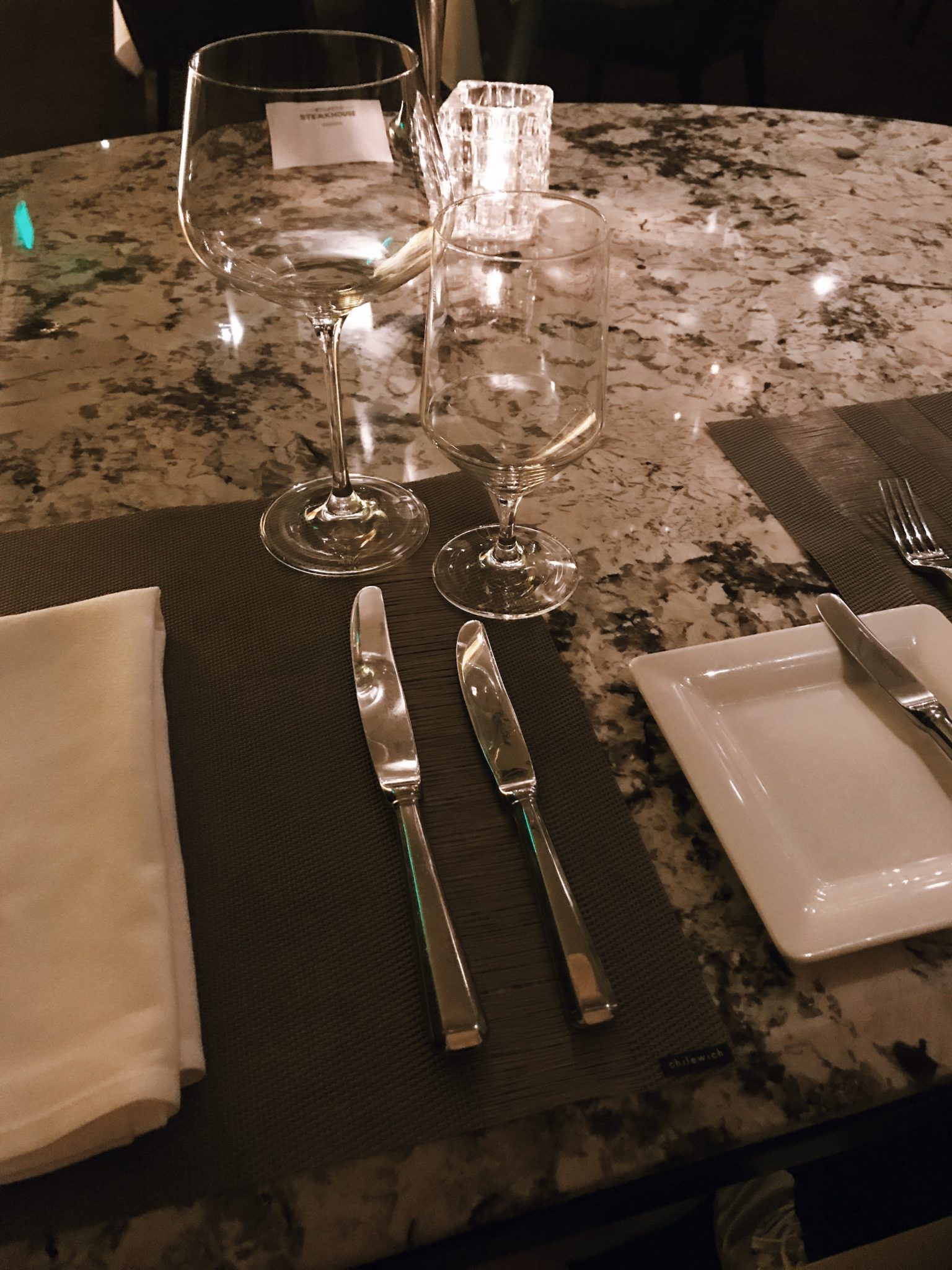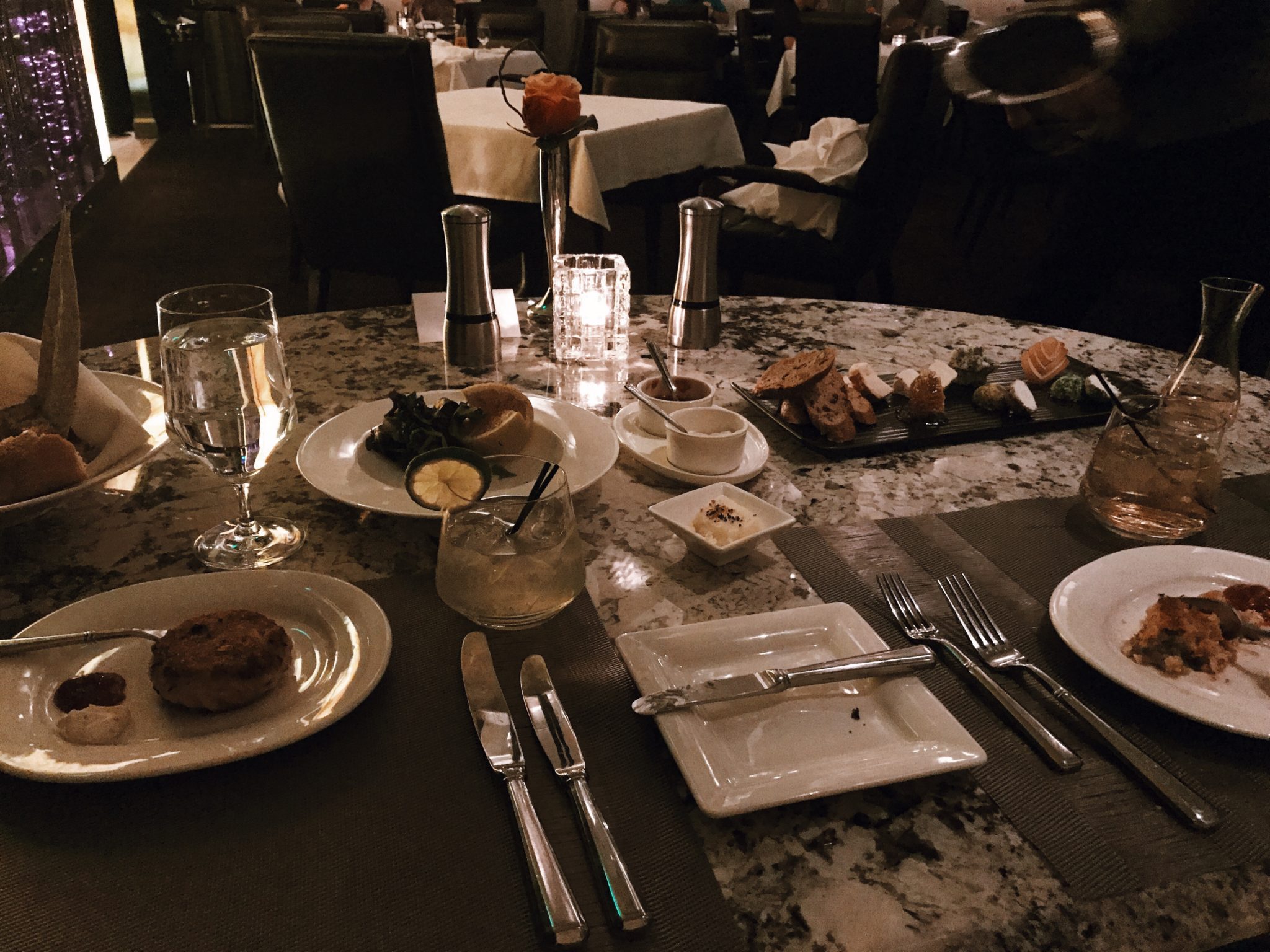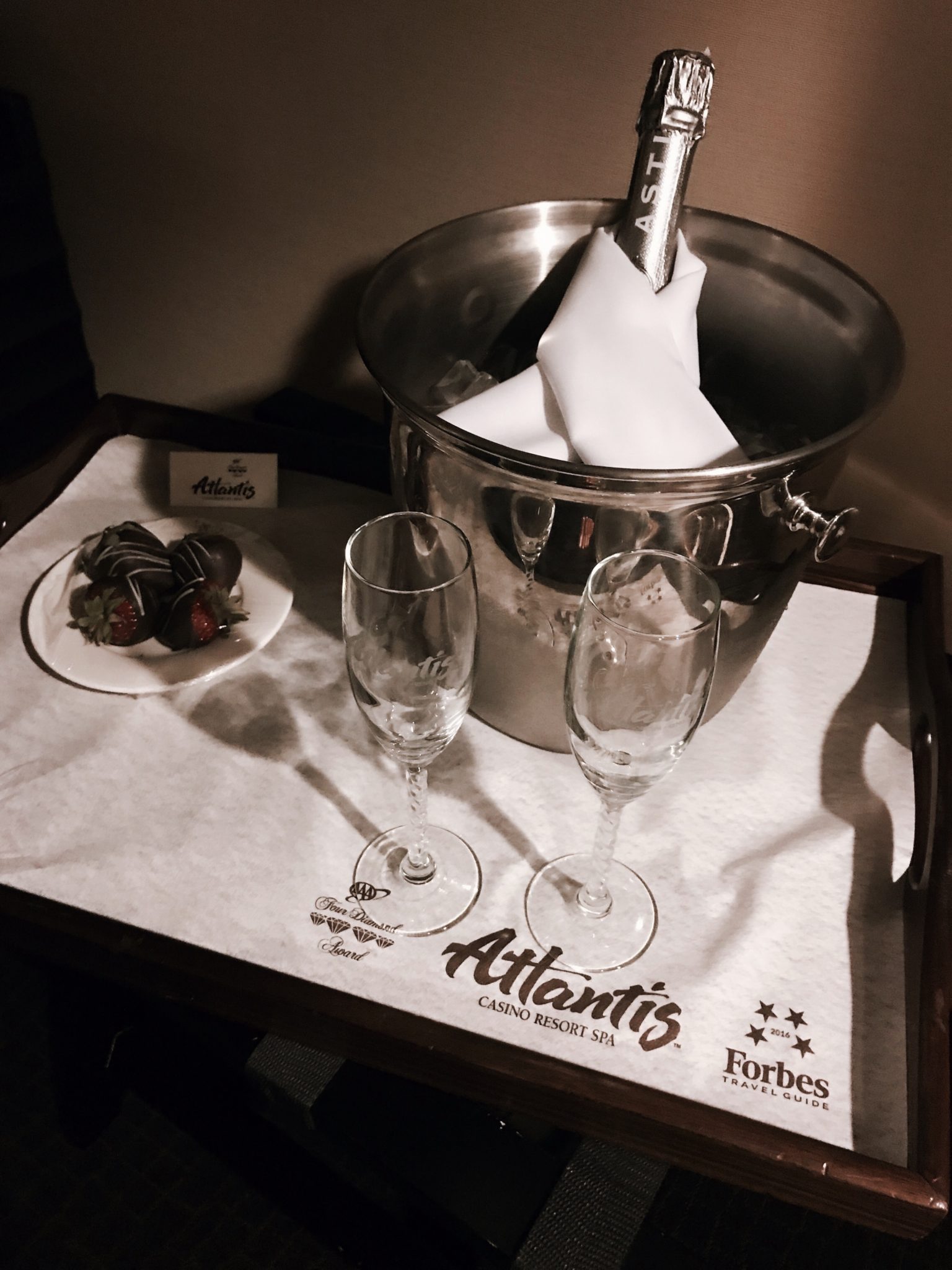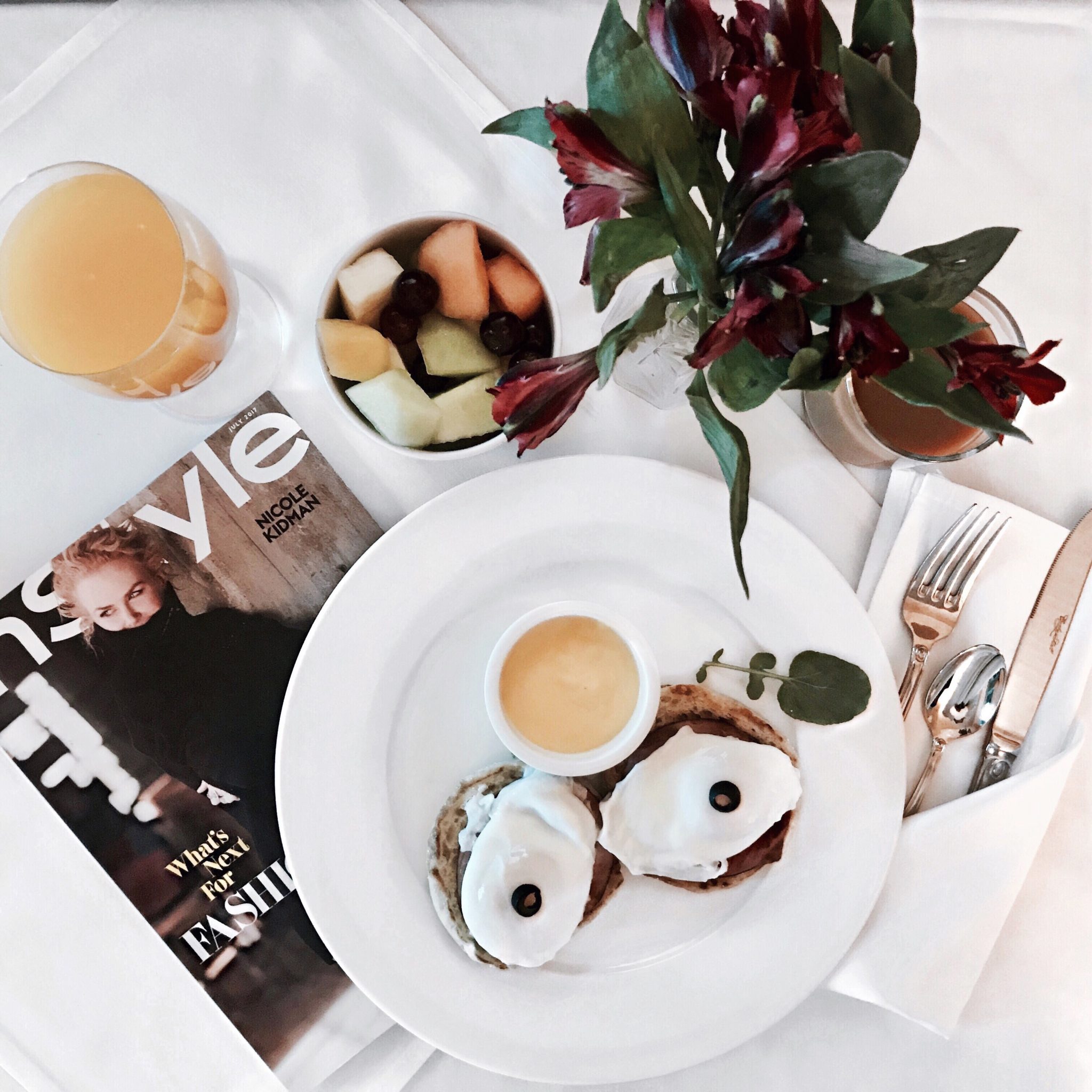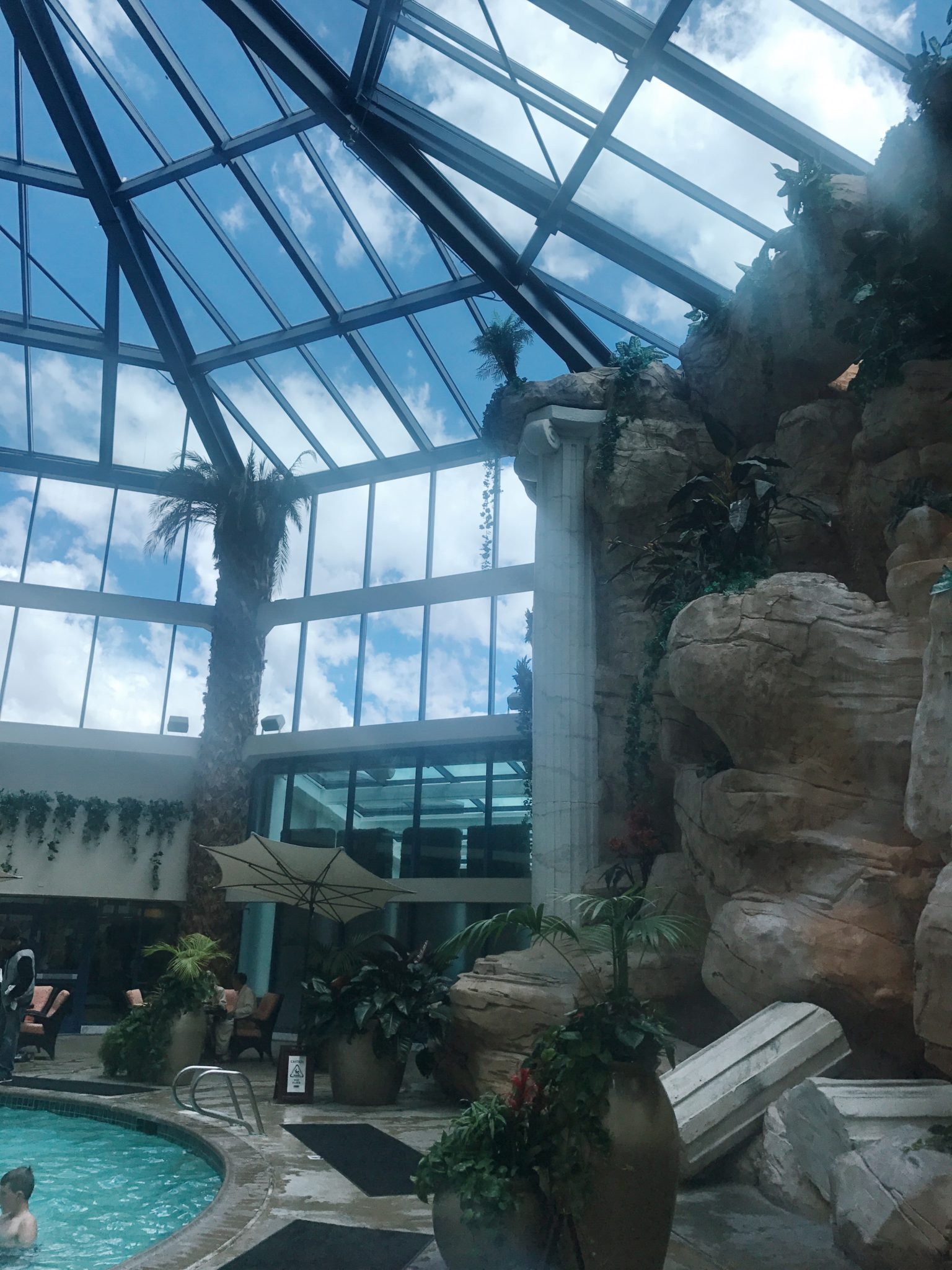 Shop the post here:
So, first things first, we checked in and got dressed for dinner. A few mirror selfies later, we decided to head over to the Steakhouse.
For dinner, we started out with a cheese platter, and James' favorite – crab cakes. As for our entrees, we had an amazing mix of both seafood and steaks. James ordered the Kansas City bone-in rib-eye and I got the filet mignon & shrimp scampi duet, and I kid you not – the rib-eye was like butter. To accompany our dinner, James ordered a Jameson on the rocks and I tried the Aviation, which was a lemon-based mixed drink. The entire atmosphere was really exquisite, which is perfect for a special occasion – or hey, if you're just feeling fancy!
After dinner, we grinned to each other as we saw the arcade. We didn't have to say a word, our inner 6-year-old selves headed right over. After a few hours of Guitar Hero, basketball, and uber cool motion theatre rides, we decided it was time for bed as we had a big spa day planned for the next day.
We came back to our room with a beautiful tray of chocolate covered strawberries and bubbly waiting for us. We guzzled down the champagne and basically inhaled the chocolate covered strawberries while I stayed up to get some work done.
The next morning, we slept in and ordered room service. James ordered his other favorite, biscuits and gravy, and I ordered my ride-or-die, eggs benedict. They were both delicious, and no joke – our food came to us in minutes. After a couple cups of coffee and some editing, we decided it was time to head over to our couples massage.
Just a few months ago, we headed to their spa for Valentine's Day. Their spa is world-renowned for good reason.. it's truly amazing. We headed into our couples massage and there are honestly no words for how amazing (and much need) it was. After our massages, we headed over to the different spa rooms. There's the Aqua Spa Lounge with Experiential Shower, Laconium Relaxation Lounge & the Brine Inhalation-Light Therapy Lounge and they each have their own health benefits. The Aqua Spa Lounge is by far our favorite. You start out with a hot tub and then jet over to the cold water pool. This is supposed to help your immune system and sore muscles. We definitely had to warm back up in the jacuzzi though! The brine room is really awesome too, the salt is great for your respiratory system and the soothing ocean sounds and light illusions make for the perfect place to wind down.
Finally, we headed over to the pools. Their main pool is what most of you had asked about. It's located at the center of the spa and it's just gorgeous. Their sky tower and waterfall features definitely give it that resort-feel. We sat down and ordered a sandwich, salad, and a couple drinks as we laid out. Now let me tell you something – I ordered the beet goat cheese salad and it is seriously TO. DIE. FOR. No joke. It's probably my favorite salad of all time and I tell James every time I order it that we need to remake it at home. It's a mix of beets, tangerine, goat cheese, candied walnuts, mixed greens, and raspberry vinaigrette and it's seriously heaven on earth… I can't even express this enough. So so good.
After we ate, we decided it was time to head back to reality. Our little staycation was so nice and much-needed, but we still had a lot of work to catch up on. We're both such workaholics while also going to school so we honestly don't get to spend too much quality time together. That being said, I think it's so important to take some time away from a busy schedule to just wind down and relax. After we got out of our massage, we agreed that we really need to do this more often – not only for each other, but for ourselves.
Whether you're a local Reno resident, or you're thinking about traveling to the area – I would definitely recommend checking out the Atlantis Casino Resort Spa, especially for a special occasion. My girlfriends and I had a very similar weekend for our friend's bachelorette party and we had a blast! 🙂 If you happen to have any questions about the Atlantis Casino Resort Spa, feel free to shoot me an email at lily@hellodarlingblog.com and I'll be happy to answer any questions or lead you in the right direction. Thanks for stopping by!