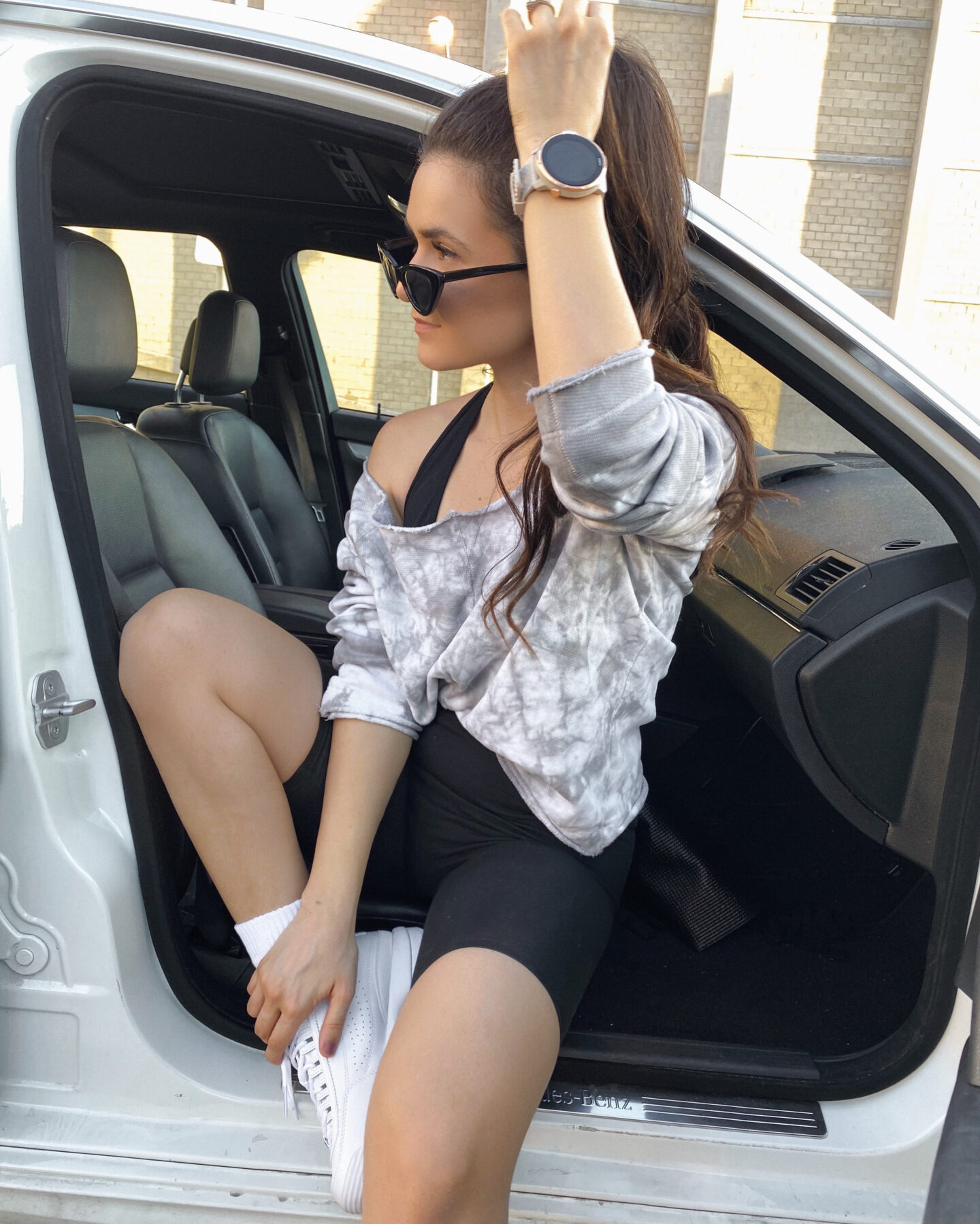 How I'm Practicing Self-Care During Quarantine
*This post is sponsored by Babbleboxx, however, all thoughts & opinions are my own.
With everything that's been going on, my entire self-care routine has been on the backburner, so I've made it a priority to carve out time for myself to refocus and get back on track.
Below are some products I've been loving to help me get back on track.
Suunto 7 Watch
Since I'm doing all of my workouts from home now, I knew I needed to get a good smart watch that would help me keep track of everything.
This Suunto 7 watch is everything I could possibly want in a smart watch. It helps you track calories (with over 70 sport modes), your heart rate, play music through your headphones, check your emails, and even has a GPS feature for runs! Plus, isn't she SO cute?! I haven't found a smart watch I loved aesthetically, until now.
Aftershokz Solar Red Aeropex Headphones
I'm obsessed with these headphones! I started using them to avoid disrupting the whole household during my workouts. They're open-ear listening headphones, which means that nothing goes inside or over your ears to allow for total awareness. They have an 8-hour battery life, are sweat and waterproof, and are super lightweight. They're currently offering 15% off on their website until 5/15/2020.
No Nonsense Feel Good Compression Socks
Never underestimate the power of a good pair of fresh socks. These compression socks are a must for wearing around the house, whether for working out in or lounging in.
These stylish crew socks are super on-trend to pair with sneakers right now too.
Ignite Your Light Book
This book instantly put me in a better mood just by looking at the cover! Yep, I judge the book by the cover, and I'm glad I did – it's a must-read, especially during quarantine. It shares so many different ways of practicing self-care, including self-care rituals, healthy recipes, and glowing skin support. It also doubles up as a cute coffee table book!
Pink Simply Collagen Beauty To Go Sticks
If one thing has taken a hit since quarantine started, it's been my skin. Between lack of sleep, stress, and some changes to my diet – my skin hasn't been happy.
The first thing I did to get my beauty routine in check is get back on collagen peptides. I love the Pink Simply Collagen Beauty packets – they're perfect to throw into my breakfast smoothies or morning coffee. They're unflavored, so the options are endless.
You can take 20% off All Pink products on Amazon using code 20SHAREPINK
Vichy LiftActiv Peptide-C Sunscreen
I've been a fan of Vichy's products for a while now, and their anti-aging sunscreen is no exception. I make sure I put some on before we go on our daily walks around the neighborhood. Sunscreen is key!
Speaking of collagen, this formula with plant-based Phyto Peptides fights signs of collagen loss.
Nature's Truth Apple Cider Gummies
Apple cider vinegar has so many health benefits, and my favorite way to take them is through these gummies. They have a natural apple flavor (and no vinegar aftertaste!).
They're so yummy – I always look forward to taking them in the morning! Even James grabs a few bites with me.
Healthy Choice Power Dressings
These salad dressings are so tasty and very minimal on calories, which is key for me since calories can add up quickly in dressings. Garden French and Greener Goddess are my favorites right now!
What're some products you've been loving to help with your self-care routine during quarantine? Let me know in the comments below!
As always, thanks so much for reading! I hope this helped inspire you to make more time for yourself because you deserve it!
xo,
Lily